9
MIN READ
Whatever He do, wherever He goes, means salvation!
At conception He saved his foster father when he accepted Mary as his wife, being with child by the Holy Spirit, through sacrificing not "to know" her till she brought forth her first born son.
Matthew 1:18-21, 25
Now the birth of Jesus Christ was on this wise: When as his mother Mary was espoused to Joseph, before they came together, she was found with child of the Holy Ghost.
Then Joseph her husband, being a just man, and not willing to make her a public example, was minded to put her away privily.
But while he thought on these things, behold, the angel of the Lord appeared unto him in a dream, saying, Joseph, thou son of David, fear not to take unto thee Mary thy wife; for that which is conceived in her is of the Holy Ghost.
And she shall bring forth a son, and thou shalt call his name JESUS: for he shall save his people from their sins.
And knew her not till she had brought forth her firstborn son: and he called his name JESUS.
"To know" is a Biblical term that means sexual relationship!
Genesis 4:1, 25
And Adam knew Eve his wife; and she conceived, and bore Cain, and said, I have gotten a man from the LORD.
And Adam knew his wife again; and she bore a son, and called his name Seth: For God, said she, hath appointed me another seed instead of Abel, whom Cain slew.
By sacrificing for awhile and withholding his desire "to know" Mary while Christ is being conceived, Joseph gave way to God's great purpose of salvation making him (Joseph) the first beneficiary of such salvation!
At birth He made the woman who bore him worthy of salvation!
Luke 11:27-28
And it came to pass, as he spake these things, a certain woman of the company lifted up her voice, and said unto him, Blessed is the womb that bare thee, and the paps which thou hast sucked. But he said, Yea rather, blessed are they that hear the word of God, and keep it.
I Timothy 2:14-15
And Adam was not deceived, but the woman being deceived was in the transgression. Notwithstanding she shall be saved in childbearing, if they continue in faith and charity and holiness with sobriety.
When sought for after birth, by a ruler whose greed for power is insatiable, He was brought to Egypt where he again gave salvation to those who received them in Egypt.
Matthew 2:13-15
And when they were departed, behold, the angel of the Lord appeareth to Joseph in a dream, saying, Arise, and take the young child and his mother, and flee into Egypt, and be thou there until I bring thee word: for Herod will seek the young child to destroy him. When he arose, he took the young child and his mother by night, and departed into Egypt: And was there until the death of Herod: that it might be fulfilled which was spoken of the Lord by the prophet, saying, Out of Egypt have I called my son.
Anybody who will receive Christ and do favor to him even to the least of his brethren is worthy of salvation!
Matthew 25:32-40
And before him shall be gathered all nations: and he shall separate them one from another, as a shepherd divideth his sheep from the goats: And he shall set the sheep on his right hand, but the goats on the left. Then shall the King say unto them on his right hand, Come, ye blessed of my Father, inherit the kingdom prepared for you from the foundation of the world: For I was hungry, and ye gave me meat: I was thirsty, and ye gave me drink: I was a stranger, and ye took me in: Naked, and ye clothed me: I was sick, and ye visited me: I was in prison, and ye came unto me. Then shall the righteous answer him, saying, Lord, when saw we thee hungry, and fed thee? or thirsty, and gave thee drink?
When saw we thee a stranger, and took thee in? or naked, and clothed thee?
Or when saw we thee sick, or in prison, and came unto thee? And the King shall answer and say unto them, Verily I say unto you, Inasmuch as ye have done it unto one of the least of these my brethren, ye have done it unto me.
In frustration to find the child Christ, Herod ordered the slaughter of all children from age two below, bringing salvation "in yet another manner" to the innocent victims of man's greed for power.
Matthew 2:16
Then Herod, when he saw that he was mocked of the wise men, was exceeding wroth, and sent forth, and slew all the children that were in Bethlehem, and in all the coasts thereof, from two years old and under, according to the time which he had diligently inquired of the wise men.
Children, regardless of condition, are bound to heaven!
Matthew 19:14
But Jesus said, Suffer little children, and forbid them not, to come unto me: for of such is the kingdom of heaven.
Their early death assured their salvation!
Isaiah 57:1
The righteous perisheth, and no man layeth it to heart: and merciful men are taken away, none considering that the righteous is taken away from the evil to come.
These all happened even before the Lord Jesus Christ opened His mouth to announce His work of salvation!
Mark 1:14-15
Now after that John was put in prison, Jesus came into Galilee, preaching the gospel of the kingdom of God, And saying, The time is fulfilled, and the kingdom of God is at hand: repent ye, and believe the gospel.
These are sufficient proofs to show the saving power that is in the person of Christ!
Christ's life for many times was uncomfortably interrupted by the schemes of the enemy. But the Father, in His ultimate power, made these interruptions as fortifying factors for the work of salvation.
Romans 5:3-5
And not only so, but we glory in tribulations also: knowing that tribulation worketh patience; And patience, experience; and experience, hope:And hope maketh not ashamed; because the love of God is shed abroad in our hearts by the Holy Ghost which is given unto us.
Romans 8:28
And we know that all things work together for good to them that love God, to them who are the called according to his purpose.
The MTRCB in the Philippines (MTRCB means Movie and Television Review Classification Board), that functions under the Office of the President of the Philippines, have unjustly under the influence of "powers that should not be" suspended Bro. Eli Soriano in appearing in any television and radio program for three months, just because he is answering in his television program the false, malicious and defamatory accusations being thrown to his person by the ministers of the INC-Manalo. It must be noted at this juncture that the MTRCB have allowed all these defamations to be aired freely by this favored organization. Complaints filed by Soriano with the MTRCB and in courts to defend his reputation among the viewers of the malicious program of the INCM were all dismissed obviously favoring this group. The following are some of the accusations that were allowed by the MTRCB to be aired nationwide after they have reviewed such program and have given them the necessary permit to go on air.
To a thinking and legal mind, these accusations constitute the crime of libel punishable under Philippine laws. To say that Soriano is mandarambong (plunderer), kidnapper, mangongotong (extortioner), hidhid, ganid (greedy of money) among others without any basis at all, in any given situation, clearly constitutes the crime of libel! But all these things were comfortably hurled to Soriano by the ministers of the INCM without any attempt on the part of the MTRCB to regulate this brutal act of indecency.  Worse is, when Soriano tried to defend himself by answering in his program these malicious accusations, because of the inaction and leniency of the MTRCB, to at least neutralize the damage that was done by the utterances of the ministers of the INCM, Soriano was suspended to appear in any televison or radio station in the whole Philippines for three months by the MTRCB. Soriano believed that the series of suspension slapped on him by the MTRCB is a violation of his human right, which after investigation by the Commission on Human Rights NCR, was found to be so.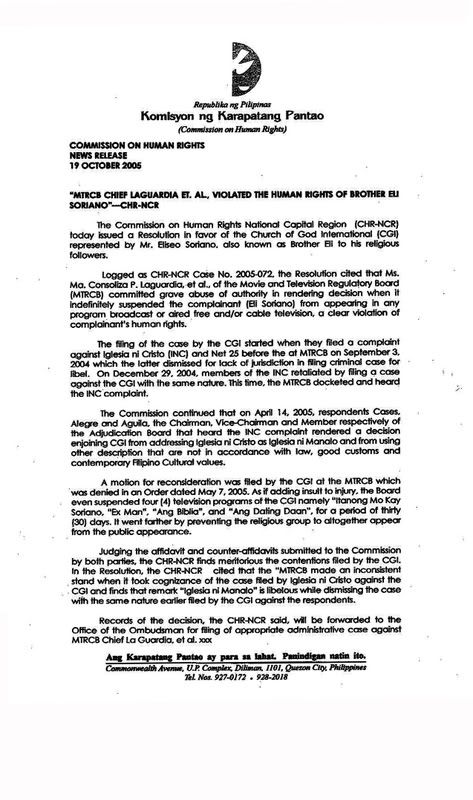 The Supreme Court of the Republic of the Philippines, in its decision affirming the three-month suspension imposed upon Soriano by the MTRCB, has favored the INCM, nevertheless it rectified that Soriano must not be the one suspended but the program  Ang Dating Daan, thereby (wittingly or unwittingly, I am asking you to think meticulously) that the human right of Soriano was really  violated by the suspending officers of the MTRCB. I do not know (because I am not a lawyer) whether the Supreme Court have any corrective measures to impose upon the MTRCB for the error they have committed in suspending Soriano for three months which clearly violated continuously Soriano's right to freedom of speech and expression and his inviolable right of free  exercise of religious freedom.
The MTRCB, to be sure, may prohibit the broadcast of such television programs or cancel permits for exhibition, but it may not suspend television personalities, for such would be beyond its jurisdiction.  The MTRCB cannot extend its exercise of regulation beyond what the law provides. Only persons, offenses, and penalties clearly falling clearly within the letter and spirit of PD 1986 will be considered to be within the decree's penal or disciplinary operation.
Members of the Church of God International have lingering questions in their minds. Why are the ministers  of Manalo being allowed by the MTRCB and the government of the Philippines to say against their leader anything they wish to say without any basis at all? Why and how it is possible that Soriano is being suspended by the MTRCB just by saying the phrase "Iglesia ni Manalo", which according to the INCM is an insult to their organization. Soriano, in uttering the phrase "Iglesia ni Manalo", based his conclusion of the teachings of Manalo himself.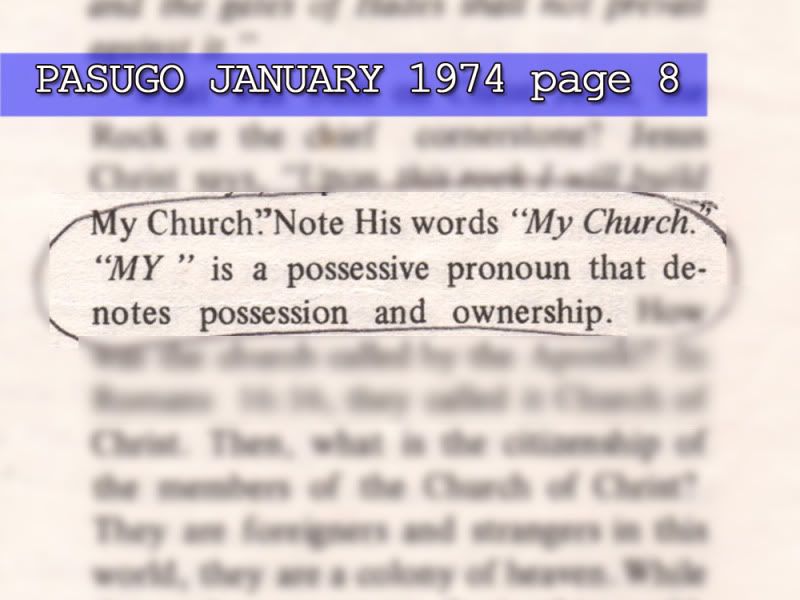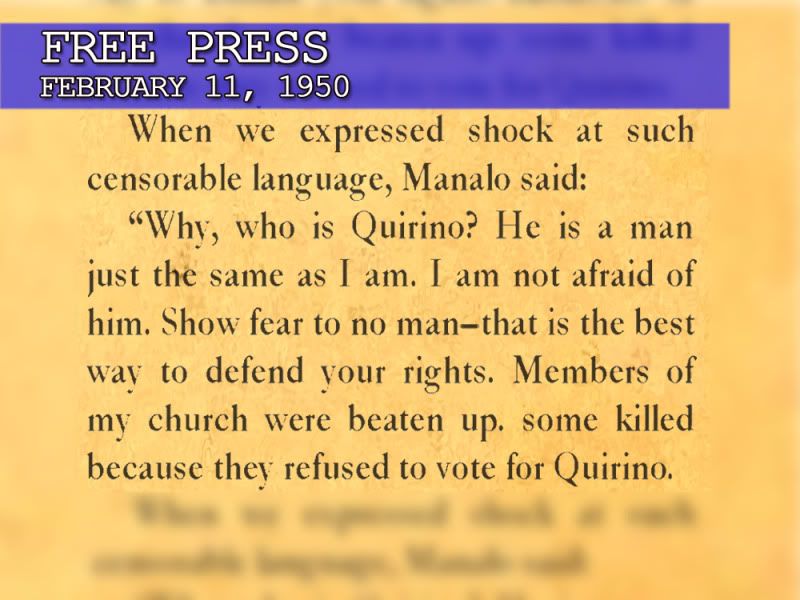 Other churches and their members are proud to be called in a manner associated with the name of their leaders. The Wesleyan Church has the name John Wesley.
Aglipayans are proud to be called Aglipayans, after the name of Gregorio Aglipay, founder of the Iglesia Filipina Independiente.
The Lutherans are not in any manner insulted being called the Lutherans after the name of Martin Luther.
The Iglesia ni Manalo are offended and are insulted hearing the name of their leader being used to address them. Whatever the reason maybe, only they (INCM) know!
Soriano, to avoid physical confrontations between members of the ADD and the INCM which is likely to happen because of the insinuations of the ministers of Manalo telling their members the whereabouts of Soriano, and even enticing the infamous group of rebels in southern Philippines to harm Soriano, left the Philippines.
With a heavy heart he left his native land and found himself in various situations that, at first, almost broke his heart. But his trust on his Creator never left his being! After a year of adjusting to an environment he never dreamt to be in, and some necessary preparations, he started to preach the gospel personally and through television in foreign lands. He traveled to the United States, Europe, England and South America, holding Bible expositions whenever possible, which gave rise (with God's help and guidance) to various local congregations of the Church of God International in foreign lands.
The baby Christ was forced out of the land of His birth by persecution, settling in a place where he brought salvation. The early Christians scattered abroad because of persecutions brought the Good News to lands outside Israel.
Acts 8:1, 4
And Saul was consenting unto his death. And at that time there was a great persecution against the church which was at Jerusalem; and they were all scattered abroad throughout the regions of Judaea and Samaria, except the apostles.
Therefore they that were scattered abroad went every where preaching the word.
I Peter 1:1
Peter, an apostle of Jesus Christ, to the strangers scattered throughout Pontus, Galatia, Cappadocia, Asia, and Bithynia,
Matthew 10:23
But when they persecute you in this city, flee ye into another: for verily I say unto you, Ye shall not have gone over the cities of Israel, till the Son of man be come.
Whatever Jesus Christ do, wherever He goes, spells salvation!
Watch Bro. Eli's LIVE Bible Exposition ONLINE.