5
MIN READ
Not all great  things are good or of God. (Revelation 17:5)
"And upon her forehead was a name written, MYSTERY, BABYLON THE GREAT, THE MOTHER OF HARLOTS AND ABOMINATIONS OF THE EARTH.'
It is clear in the verse that this great Babylon is the mother all abomination upon the earth.
There are "gangs and illegal organizations that grow to be international; traversing boundaries of continents and counties heavily guarded by armed authorities.It maybe a paradox in this world wherein fundamental laws and mouths of powerful people condemn evil.  The irony is so clear: that while human society condemns evil in the open, evil grows to be "great" in the underworld.  The bible has the explanation.  In Psalms 37:35 (ASV) it says,
"I have seen the wicked in great power, And spreading himself like a green tree in its native soil. "
Why does it grow to be great?
The answer:  evil have the power to influence — even the good. (I Corinthians 15:33 ASV):
"Be not deceived: Evil companionships corrupt good morals."
The aggravating factor is that while most world's leaders condemn evil by mouth, they approve or tolerate it by heart.  (Romans 1:32)
"Who knowing the judgment of God, that they which commit such things are worthy of death, not only do the same, but have pleasure in them that do them."
Killing person mercilessly — or mercifully —is  against the scripture. (Matthew 5:44)
"But I say unto you, Love your enemies, bless them that curse you, do good to them that hate you, and pray for them which despitefully use you, and persecute you;"
If we love our enemies we will not kill them.  In fact, we are obliged to feed them when hungry and alleviate their thirst when thirsty. (Romans 12:20)
"Therefore if thine enemy hunger, feed him; if he thirst, give him drink: for in so doing thou shalt heap coals of fire on his head."
The logic is clear:  if we can love our enemies by heart, the more we can love our relatives and friends — and even ourselves!  It is marvelous that while the catholic church profess to be the only true religion in the world, it has in its known history,  records of  murder and mutiny of heretics and innocent people.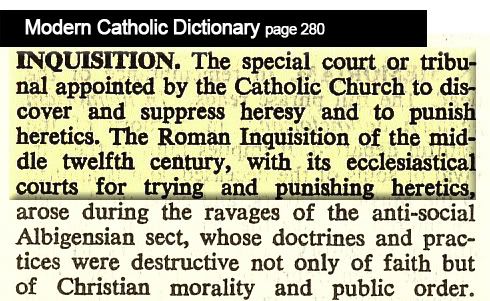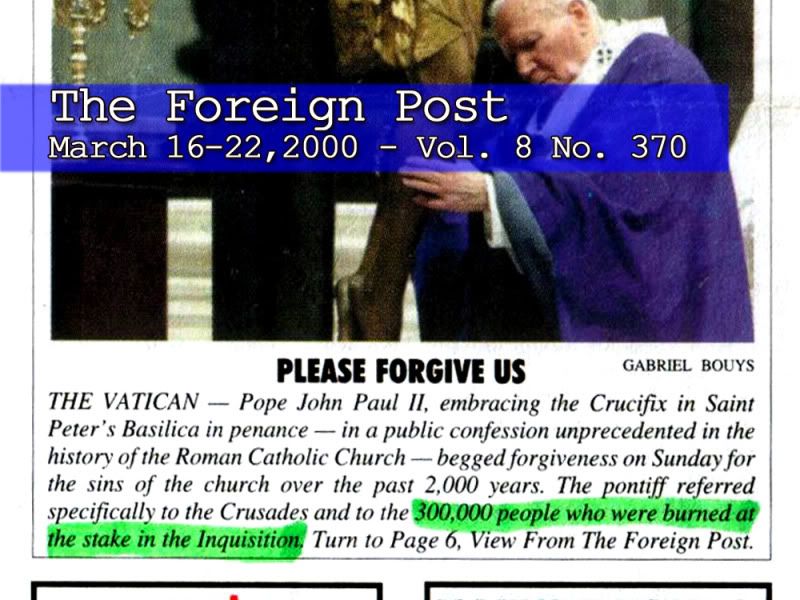 Biblical records reveal that Christians were murdered, but never were murderers!  Murderers are of the devil John 8:44:
"Ye are of your father the devil, and the lusts of your father ye will do. He was a murderer from the beginning, and abode not in the truth, because there is no truth in him. When he speaketh a lie, he speaketh of his own: for he is a liar, and the father of it."
In the time of the Israelites, only condemned people are being put to death mercilessly. Hebrew 10:28-29:
"He that despised Moses' law died without mercy under two or three witnesses: Of how much sorer punishment, suppose ye, shall he be thought worthy, who hath trodden under foot the Son of God, and hath counted the blood of the covenant, wherewith he was sanctified, an unholy thing, and hath done despite unto the Spirit of grace?"
It is God's command to His people to execute His judgment unto this condemned people.  Deuteronomy 17:2, 6:
"If there be found among you, within any of thy gates which the LORD thy God giveth thee, man or woman, that hath wrought wickedness in the sight of the LORD thy God, in transgressing his covenant, At the mouth of two witnesses, or three witnesses, shall he that is worthy of death be put to death; but at the mouth of one witness he shall not be put to death."
God is the giver of life.  Acts 17:28:
"For in him we live, and move, and have our being; as certain also of your own poets have said, For we are also his offspring. "
…and is the only one who has the right to take it back. Deuteronomy 32:39:
"See now that I, even I, am he, and there is no god with me: I kill, and I make alive; I wound, and I heal: neither is there any that can deliver out of my hand. "
The commandment  "thou shall not revenge for vengence is mine" is a vivid indication that even His people aggrieved by their enemies cannot take life by themselves.  How can now the "great" Catholic Church  claim that they are of  God and vindicate their crime biblically?  The order from your highest authorities to burn manuscripts of the Bible translated by Wycliffe in the language that can be understood by people, and to burn Tyndale alive for translating the Bible into English are acts proving the satanic power behind the Catholic Church.  The only credible truth to be believed and to be accepted wholeheartedly is the word of God. ( John 17:17)
"Sanctify them through thy truth: thy word is truth."
Whatever make-up or camouflage anybody may attempt, to cover-up the crimes they have committed against humanity are not acceptable to a thinking mind.
The Mormons cannot deny their unchristian doctrine of blood shedding:
But under certain circumstances there are some serious sins for which the cleansing of Christ does not operate, and the law of God is that men must then have their own blood shed to atone for their sins. Murder, for instance, is one of these sins; hence we find the Lord commanding capital punishment. Thus, also, if a person has so progressed in righteousness that his calling and election has been made sure, if he has come to that position where he knows "by revelation and the spirit of prophecy, through the power of the Holy Priesthood" that he is sealed up unto eternal life (D. & C. 131:5), then if he gains forgiveness for certain grievous sins, he must "be destroyed in the flesh" and "delivered unto the buffetings of satan unto the day of redemotion, saith the Lord God." (Doctrines and Covenants 132:19-27)
The Christian era is very much different from the Mosaic times of God's people.  While God uses His people to condemn people to death in the olden times, Christ commanded His disciples to be merciful even to the most bitter of their enemies (Hebrews 9:10; 8:13; 7:12).
"Which stood only in meats and drinks, and divers washings, and carnal ordinances, imposed on them until the time of reformation."
"In that he saith, A new covenant, he hath made the first old. Now that which decayeth and waxeth old is ready to vanish away."
"For the priesthood being changed, there is made of necessity a change also of the law."
I may, for a while, say that those religion who do not know Christ (like Confucianism) is better than the Mormons that claim to be Christians and teaching cruel, unchristian doctrines.  (II Peter 2:21)
"For it had been better for them not to have known the way of righteousness, than, after they have known it, to turn from the holy commandment delivered unto them."
Having said this, I also disagree with Confucianism…  to be continued……..
Watch Bro. Eli's LIVE Bible Exposition ONLINE.