4
MIN READ
Multi-awarded Superstar Ms. Nora Aunor, Atty. Dot Gancayco, and former Cong. Niel Tupas Jr led the celebrities and politicians who attended the celebration of Ang Dating Daan's 36th anniversary of media broadcast.
Thousands of guests filled to the brim of Mall of Asia Arena during the celebration of the Philippine's longest running religious program hosted by Bro. Eli Soriano on December 9, 2016.
Meanwhile, thousands more watched via the more than 1,360 coordinating centers of the Members Church of God International (MCGI) across the country and some parts of the world.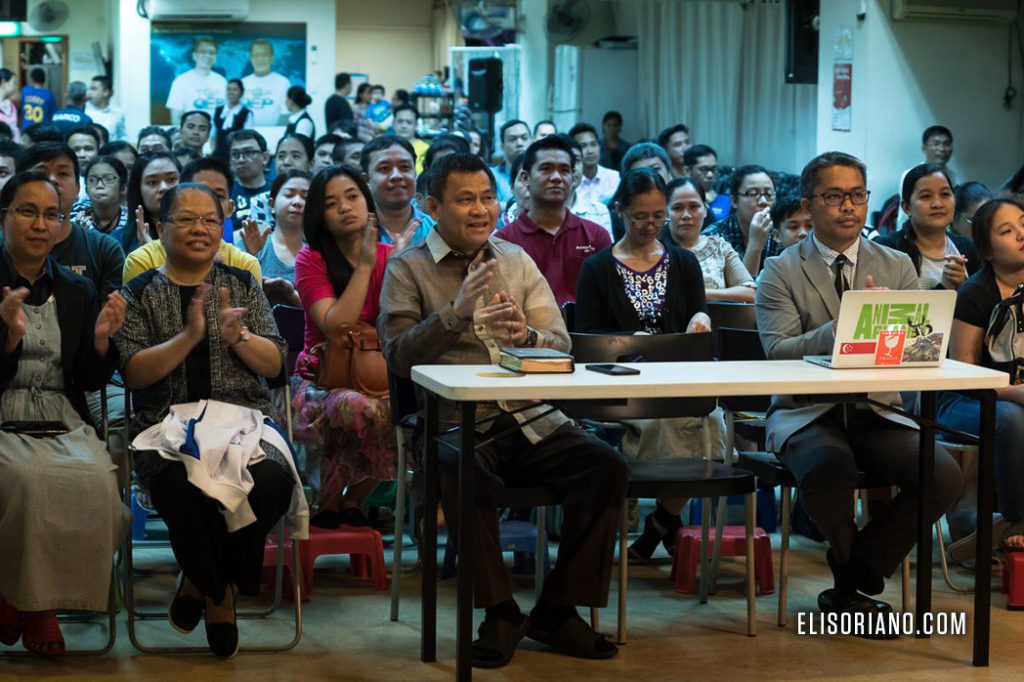 This year's theme was "Reviving Humanity's Faith and Hope Through Evangelization."
Where True Love is Found
"God-willing, I wish to join the Church. This is where I really found love," remarked Aunor during the Worldwide Bible Exposition that marked the anniversary.
Known internationally as "a Filipino screen legend," Ms. Aunor has appeared in over 170 films, including award-winning ones like Lino Brocka's Bona (1980), Ishmael Bernal's Himala (1982), Joel Lamangan's The Flor Contemplacion Story (1995), and the Brillante Mendoza-directed "Thy Womb" (2012), where she scooped the Asia Pacific Screen Awards' Best Actress plum in Brisbane, Australia.
Meanwhile, Bagong Henerasyon Partylist Representative Ms. Herrera remarked on the importance of the program. She added that Bro. Eli and Kuya Daniel's preachings have helped guide their party list members in dealing with the challenges and struggles they face.
On the other hand, Cong. Tupas even asked Bro. Eli his question about the role of women in the church. According to Bro. Eli, the Bible does not prohibit women to preach while "there is no dispute that the leader must be a man."
Serving as Chair of the House Committee on Justice, Tupas promotes a number of advocacies that include public health, youth scholarship program and medical assistance to indigent constituents in the fifth district of Iloilo.
Questions Meet Bible's Response
Ten other guests from different remote points were able to raise their questions during the Bible Exposition event, ranging from forgiveness to extramarital affairs, among others.
To an inquirer in Naga City about forgiving, Bro. Eli answered frankly that the Bible teaches forgiveness but it has to depend on the situation. Unlike some religious orders where the pastor or priest can forgive all year round, a true preacher and true Christian cannot forgive all sinners, especially those who commit mortal sins in the Bible.
"If a preacher has the Spirit of God, he knows whom he must forgive," said Bro. Eli, referring to the biblical passage in John 20:22-23.
Bro. Eli then warned against forgiving sins that are against God. In such situations, it is no longer man's place to offer forgiveness. "What must you forgive? Those sins against you. But if it is against God, His Spirit, then no," he maintained.
Finally, Bro. Eli explained that offering forgiveness, as well as showing mercy and kindness, are important so that one may achieve forgiveness from the Almighty.
To a guest in Dubai asking about his marriage-related sin prior to hearing the true gospel, Bro. Eli assured that sins of the past are pardonable should one promises to change and follow God's commandments.
Using as examples the Apostle Paul and Mary Magdalene, as well as the Samaritan woman who had five husbands and the thief beside Jesus Christ on the cross, whose sins were already forgiven, Bro Eli said, "The past no longer matters then."
Straightforward and Frank Answers
"If we are truly Christians, we have to accept what Jesus Christ taught the first century Christians."
Bro. Eli, at the start of the program, reminded guests of his manner of answering questions. To be as truthful and faithful as possible to the words of God in the Bible, he said that he will be frank, and there will be no sugarcoating of answers just to appease or please any group or belief.
The International Televangelist asked attendees present to have an open-mind and understanding, and clarified that he is not attacking other beliefs when preaching.
"If you say I am attacking, well, it is not I who attacks [but] Christ," Bro. Eli remarked, then he quoted Mark 6:7 wherein Christ himself warned against following wrong practices.
The hashtag #AngDatingDaan36Years peaked at No. 1 spot on Twitter by 6:26 p.m. (PHT).
Since going international, Ang Dating Daan has been airing in other nations as 'O Caminho Antigo' in Portuguese, 'El Camino Antiguo' in Spanish, and 'The Old Path' in English.
Written by Ma. Therese Quita