3
MIN READ
On the November 10-Worldwide Bible Exposition this year, international televangelist Bro. Eli Soriano once again gave answers based on the Bible, to a variety of religious and spiritual questions asked by guests from different parts of the world.
How was God created?
A guest from Guatemala asked Bro. Eli how God was created. Promptly, Bro. Eli read the verse, Romans 1:25.
"Who changed the truth of God into a lie, and worshipped and served the creature more than the Creator, who is blessed for ever. Amen." – Romans 1:25, King James Version
God was not created, He is the Creator, Bro. Eli explained. The verse implies that worshipping the ones created, and not the Creator, is a lie, as Apostle Paul stated, "they changed the truth of God into a lie."
Bro. Eli further said that it should be kept in mind that the God we worship is not part of the creation. He existed even before the creation of the universe, the angels, and mankind. It's impossible for someone or something to create God because He, himself, is the Creator.
How does the "Trinity" work?
Trinity is the belief or the doctrine that the Father, the Son, and the Holy Spirit are three equal, divine personas.
"They are not equal," Bro. Eli began to reason to the guest from Sydney, Australia who inquired about that certain belief. He then proceeded by saying that there are many verses in the Bible that debunk Trinity. Among these is the one written in John 14:28.
"Ye have heard how I said unto you, I go away, and come again unto you. If ye loved me, ye would rejoice, because I said, I go unto the Father: for my Father is greater than I." – John 14:28, King James Version
It is clear in this verse that the Son, or the Lord Jesus Christ, considers the Father God greater than him. How can they be equal, Bro. Eli retorted.
Insinuating the same thought and logic, John 10:29, John 13:16, John 12:49, and I Corinthians 15:24-28 were read next.
The international televangelist then said that the Father is greater than all because He is the one who sends Christ and the Holy Spirit. It is very wrong to think and believe that they are all equal, like how Catholics and other Born Again denominations do.
How to combat greed, fear, impatience, envy?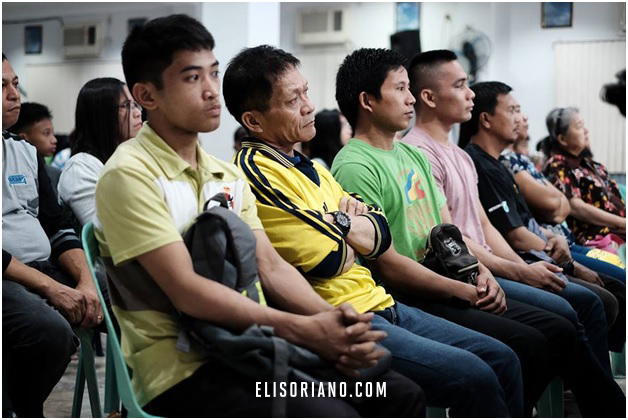 Meanwhile, a visitor in Manila asked Bro. Eli on how she can control or combat greed, fear, impatience, and envy, in relation to financial trading.
First of all, Bro. Eli answered, it must be understood that the love of money is a root of all evil. Although money can be used for charitable works, getting too attached to it can cause evil.
Citing Psalms 119:98 to 101, Bro. Eli said that the answer to the question can be found in these verses. "What makes us psychologically able to deal with any situation is keeping the commandments of God," Bro. Eli explained.
The words of God, His teachings are the ones which guide us emotionally, spiritually, and physically. With this, he read Matthew 6:33.
"But seek ye first the kingdom of God, and his righteousness; and all these things shall be added unto you." – Matthew 6:33, King James Version
First and foremost, what people need is to find the teachings of God which are far more important than clothes, food, money. It is written in the Holy Scriptures that God will provide you with your physical necessities if you just seek His Kingdom first.
This is what the Bible advises in controlling greed, fear, impatience, and envy, Bro. Eli concluded.
Written by: Elizabeth Borromeo