3
MIN READ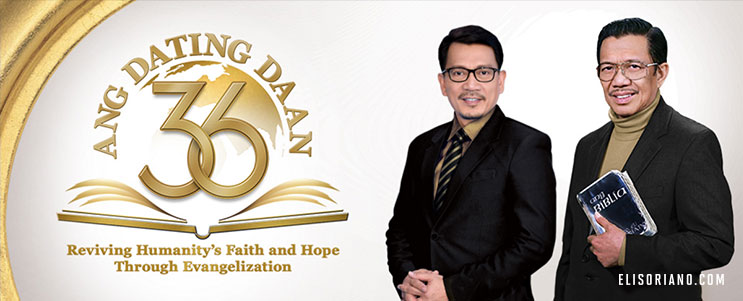 Ang Dating Daan, the Philippines' longest running religious program on radio and television celebrated its 36th anniversary with a Special Worldwide Bible Exposition on December 9 this year at the MOA Arena in Pasay City.
The Special Worldwide Bible Exposition is expected to gather thousands of people to listen and have their questions answered by the show's host, Bro. Eli Soriano, not only at the main venue, but in all major coordinating centers of the Members Church of God International (MCGI) across the Philippines and other countries.
Known for its Bible-giving efforts whenever it holds its regular Worldwide Bible Exposition, MCGI will be giving away up to 8,000 free copies to attendees of the special grand event.
This anniversary's theme is "Reviving Humanity's Faith and Hope Through Evangelization."
Slated to start at 6 p.m. (PHT), the Special Worldwide Bible Exposition will have Bro. Eli Soriano, MCGI's Overall Servant, answer questions live, with UNTV News and Rescue's Kuya Daniel Razon as co-host.
Looking Back: 36 Years of Truthful Broadcasting
For 36 years that Bro. Eli Soriano has been hosting the program since 1980, Ang Dating Daan has been one of the most-talked about, watched and awarded religious programs locally and abroad.
It will be recalled that Ang Dating Daan started its television show comprised of a three-person production team in small, cramped studio in 1983, then aired through IBC-13. Over time, the program started to gain viewership and recognition amid persecution of the show and its hosts.
Supporters, fans and viewers of the show admire the event's host for his no-holds-barred, Bible-based answers, keeping true to the program's purpose and commitment to truthful evangelization.
What makes Ang Dating Daan an exceptional alternative to other religious programs is its distinct segment, "Biblia Ang Sasagot: Itanong Mo Kay Soriano." Viewers can directly raise their questions to Bro. Eli Soriano, even challenge him for live debate.
Amidst Persecution, the Awards
As program host, during its early decades, Bro. Eli has received many awards, including the prestigious "Most Outstanding Gospel Minister of the Year" for years he was part of a panel in the program 'Dis is Manolo and His GENIUS (God Eternal News In Universal Salvation) Family'. The radio show was aired via DZBB.
The International Televangelist, consistently voted the most popular preacher in the country, twice received honors from the Filipino community in North America's Gawad Amerika for his show Ang Dating Daan.
Mashable's Open Web Awards, Philippines' Bloggys, and the now-defunct Philippine Web Awards have also given awards to Bro. Eli for his blog sites, esoriano.wordpress.com and controversyextraordinary.com.
On its 35th anniversary last year, Ang Dating Daan clinched a world-record with the Largest Gospel Choir representation. The Guinness World Record cited the MCGI's 8,688 choristers who participated in serenading people with disabilities.
But the highlight was the doling out of donations to 1,700 PWD (Persons With Disabilities) – those who were invited especially to witness the historical event.
From Local to Global
Ang Dating Daan has since gone international, establishing Bible Expositions even in Europe and Latin America. Bro. Eli humbly believes that there are people in many parts of the world who are thirsty for the word of God.
This is how Bro. Eli's Bible Exposition expanded since his small town gatherings days in Pampanga to nationwide broadcasts and international initiatives.
On the World Wide Web, Ang Dating Daan started its live streaming in the latter part of 1999. Today, the daily Bible Expositions for both Spanish-speaking and Portuguese-speaking audience are being broadcast live on Facebook.
Live streaming via Facebook started in June this year. The popular Worldwide Bible Expositions are also streamed live via the official Youtube channel of Ang Dating Daan.
Ang Dating Daan is the flagship religious program of the congregation Members Church of God International (MCGI) and is aired on the UNTV Public Service Channel everyday.
Broadcasting internationally as well as locally, the program airs Spanish and Portuguese editions. For its English-speaking viewers, there is The Old Path, while Portuguese speakers can watch the show via O Caminho Antigo, and Spanish speakers through El Camino Antiguo.
Written by: Ma. Therese Quita